Use Digital Devices ebook
| | |
| --- | --- |
| | INF981-E |
| | 978-1-925873-61-0 |
| | Colour PDF |
The skills and knowledge acquired in Use Digital Devices ebook will provide a general understanding of the use of a range of digital devices. It applies to individuals who require entry level information and communications technology (ICT) knowledge and literacy skills to support their work in a home office or small office environment.
At the completion of this course you should be able to:
identify digital devices and have a general understanding of how they work
prepare a digital device for its initial use
use a digital device
understand digital connectivity
correctly shut down a digital device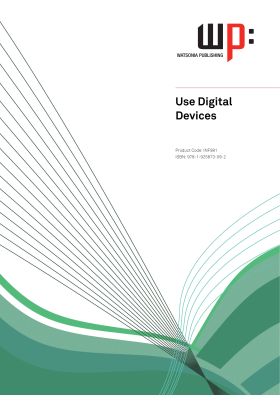 Click here for a sample
$19.50
Purchase: Add to Cart

View outline
View a detailed outline of the course material. You may need to install Adobe Acrobat Reader to open this file.
Download student files
This manual has no student files.